Data needed to calculate a fair car allowance
Different employees should receive different amounts and those amounts should be based on actual data. This is the only way to ensure equitable reimbursement and to prevent over-reimbursing and under-reimbursing.
To get started, use the graphic below to discover the average costs of owning and operating a vehicle by expense category. You might be surprised at what you find.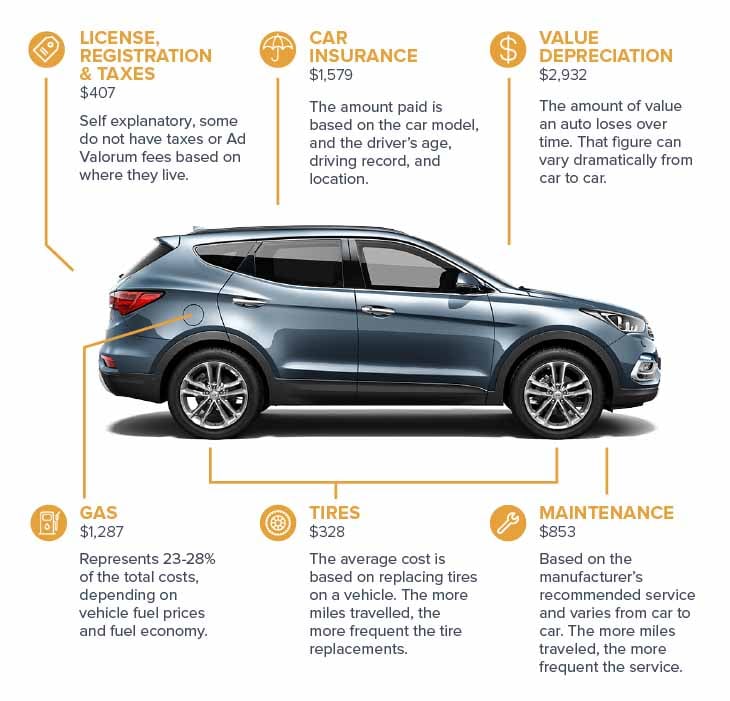 These average annual costs amount to a monthly expense of $615.50. And that's average. Will a $600/month taxable car allowance cover the costs of the average American driver? No way! After taxes, that $600 might be as little as $400.
What about a driver in California, where gas and maintenance prices are through the roof? Or in Michigan, where insurance rates are the highest in the country? Those drivers' monthly vehicle expenses could easily reach $1,000.
Would a mileage reimbursement work better? Not necessarily. Depreciation and insurance together make up 60% of vehicle costs. That poses problems for low-mileage drivers since fixed costs are only marginally affected by miles driven.
What's your optimal car allowance for 2023?
You could use these average costs to estimate the needs of individual employees based on whether they face below-average or above-average costs based on location, territory size, and vehicle type. But more specific data exists.
To obtain data specific to select vehicle types and a selection of geographic locations, see our additional guide to the process of pinpointing that optimal allowance or reimbursement rate: Four Steps to a Reasonable 2023 Car Allowance.
Or, you can complete our three-step process below – audit your current car allowance, complete a competitive benchmarking analysis, and then receive a free, optimized rate.
Even simpler, contact mBurse to find out about vehicle allowance program administration. You don't administer you're own health insurance, so why administer your own car allowance?