Car accidents may be the most obvious source of risk, but state labor codes pose a more subtle set of risks. Several states have added specific protections to the take-home pay of employees. Under these employee indemnification codes, employers that don't fully protect their employees' pay in accordance with the law can be subject to fines and lawsuits
These "pro-employee" states include California, Illinois, Massachusetts, Rhode Island, North Dakota, South Dakota, Michigan, and New York
No state has a stricter employee expense indemnification code than California. If you can comply with California's employee reimbursement laws, you'll be protected anywhere.
CA Labor Code Section 2802(a) states that:
"An employer shall indemnify his or her employee for all necessary expenditures or losses incurred by the employee in direct consequence of the discharge of his or her duties, or of his or her obedience to the directions of the employer."
Furthermore, Section 2802(c) defines "necessary expenditures or losses" to include "all reasonable costs."
California's indemnification labor law clearly requires employers to reimburse employees for all reasonable expenses related to the business use of a personal vehicle. (Business use does not include the commute between home and work.)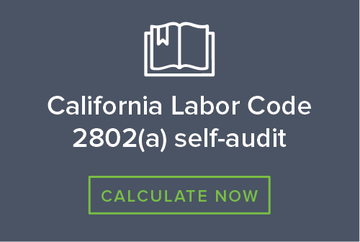 These expenses include more than just gas. Tires, maintenance, depreciation, auto insurance, taxes, and registration all can be considered reasonable costs.
What reimbursement methods comply with California's labor laws?
The California Supreme Court laid it out in the 2007 decision Gattuso v. Harte-Hanks Shoppers, Inc. According to the Court, the following methods can comply with the law:
1. The IRS mileage rate – paying a cents-per-mile rate set by the federal government each year to guide individual tax deductions for business miles driven.
2. The actual expense method – reimbursing the actual expenses, demonstrated through employee receipts.
3. The lump-sum method – pays a car allowance based on the employee's personal vehicle expenses; this car allowance must provide full reimbursement.
None of these methods provides a perfect solution, however. Each carries distinct advantages and disadvantages:
| Type | Pros | Cons |
| --- | --- | --- |
| Mileage Reimbursement | Simple to administer | May over-reimburse high-mileage drivers and under-reimburse low-mileage drivers |
| Actual Expense | The most precise method. | Administratively difficult; requires tedious record-keeping and tracking receipts |
| Lump Sum or Allowance | Simple to administer | Taxes reduce the take-home amount, making this method the most inefficient |
Most companies opt for the IRS mileage rate or a monthly car allowance because these are the easiest to administer. However, both create a problem of inequity.
Think about it: different employees experience different costs, yet the employer reimburses them the same amount. Territory size, employee role, and geographically-sensitive costs all differ across a single company.
Not only is a standard reimbursement unfair to the employees with the highest costs, it's not cost-effective for the company. Compliance with CA Labor Code 2802 means setting a car allowance at the level of the employee with the highest expenses. Similarly, if you pay a mileage rate, high-mileage drivers can drive costs beyond what's necessary for sufficient reimbursement.
Even worse, inequitable compensation can dampen productivity and increase attrition rates, further increasing company costs and adding overall risk.
So what's the best way to comply with indemnification labor codes?
The answer is...none of the above! The best method is fixed and variable rate reimbursement, also known as FAVR. The next chapter will explain why this approach works better than all others.