Mileage reimbursement at a standard rate creates three challenges that you need to solve: expense variations, lack of precision, and cost control.
If you do not have a reimbursement plan that follows best practices to address each of these challenges, the company can experience increased attrition rates, increased chances of labor code violations, and inability to rein in costs.
1. Expense variations
In theory, a mileage rate should help with expense variations because more driving incurs more costs. In reality, vehicle expenses fall into two categories: fixed and variable.
Fixed costs, such as insurance, taxes, and depreciation, become less costly per mile when spread over a higher number of miles driven.
Variable costs, such as gas, maintenance, and tires, tend to increase with miles driven, though other factors such as gas prices impact these as well.
As a result, a high-mileage driver tends to be over-reimbursed relative to a low-mileage driver. Here's an illustration using the 2019 IRS rate, which was $0.58/mile that year:

Both employees pay the same amount for their driver's license, vehicle taxes, and car insurance (for the most part). Employee B will spend more on maintenance and tires and spend a lot more for gas. But Employee B is not going to spend $14,210 more in gas, maintenance, and tires than Employee A. Plus, Employee A's car depreciation by itself will likely exceed $2,000.
Here is a comparison of the average business costs of a midsize vehicle driven 5,500 vs. 30,000 miles:

Employee A got shortchanged. Employee B made bank. This is a huge inequality, and it happens all the time.
Most mileage rates do not fluctuate with gas prices, adding to the problem. For example, the IRS rate only generally tracks with gas prices but historically has not adjusted with spikes.
2. Lack of precision
The IRS mileage rate was never designed to accurately reflect all motorists' vehicle costs. Instead, the government rate is derived as an average of all vehicle expenses across the entire United States from the previous year, which works just fine in terms of taxation but less so for companies seeking to accurately reimburse employees.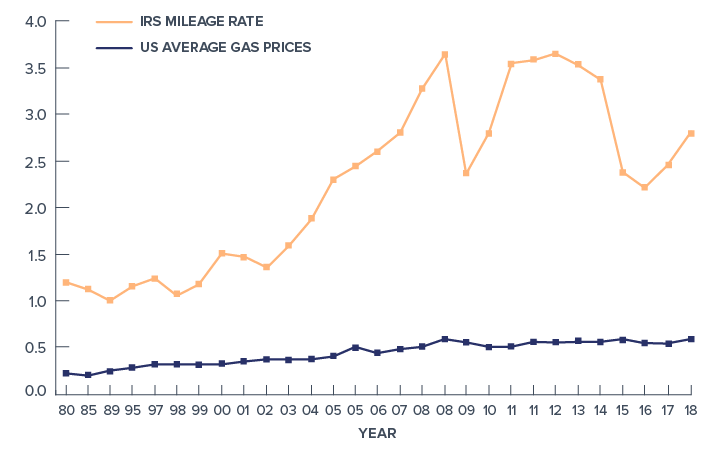 Different motorists in different parts of the country experience different levels of expense per mile driven. But as far as the IRS is concerned, it all averages out across all tax returns. Some taxpayers end up deducting more than their actual costs, while others less than their actual costs – but it all evens out for Uncle Sam.
If mobile employees are being shortchanged by the IRS rate, they may drive unnecessary miles to increase their reimbursement. If they are being over-reimbursed, however, that becomes an expense problem for the company.
3. Cost control
Most companies rely entirely on the employee to record business mileage. This creates a cost control problem.
Because neither the IRS mileage rate nor most company-derived mileage rates adjust automatically with gas prices, there are times when a sudden increase in gas prices brings a sudden decrease in cash flow for the employee. The same thing happens if their insurance or personal property tax rates increase.
In situations where business expenses increase but the mileage rate stays the same or only slightly increases, an employee will seek ways to recoup the loss of income. Depending on what type of mileage log the company uses, this could mean adding extra mileage to the log, or it could mean driving extra, unnecessary miles.
If your company uses an Excel spreadsheet to record mileage, what's to stop an employee from fudging the numbers? Similarly, if employees are estimating mileage to save time, why wouldn't they "round up" in their calculations?
When reimbursing mileage, it can be very difficult to control costs because calculating the mileage reimbursement remains largely in the employee's hands.