Putting it all together
In summary, accurate vehicle cost data must drive accurate vehicle reimbursements. This is the only way to ensure equitable reimbursement and to rein in costs from over-reimbursement and protect employees from under-reimbursement.
To give you an idea of actual vehicle cost data, we've created a helpful graphic below. Look at different parts of the car image to discover the average amount U.S. drivers experienced in each vehicle expense category over the past year. What you find may surprise you.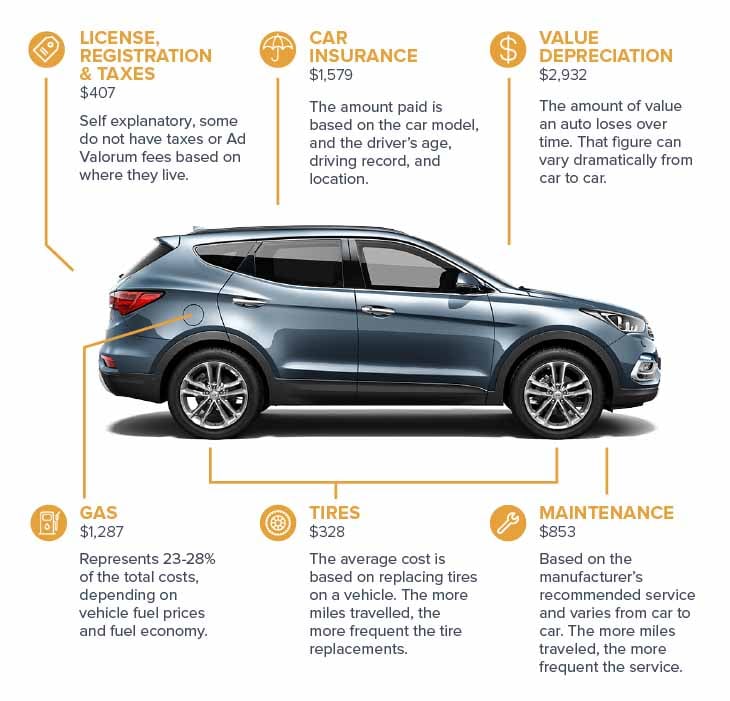 When you add up these average annual costs, you get a monthly expense of $615.50. And that's average. If you're paying the IRS mileage rate, your employees need to drive 1,061 miles per month to break even. And that's if they experience average annual costs.
But what if they drive 1,200 miles/month in California, with some of the highest gas prices and maintenance costs in the U.S.? Or in Michigan, where insurance rates are the highest in the country? Will that extra 139 miles net the amount they need to cover their geographically-based costs?
And what about depreciation and insurance costs for low-mileage drivers? Together make up over 60% of the costs of owning a car and have little relationship with miles driven.
From the company perspective, you've also got a cost-control problem from high-mileage drivers putting in 2,000 or 3,000 or 4,000 miles per month. That IRS rate will rapidly exceed the drivers' actual expenses, especially if they live in less expensive parts of the country.
Where do you go from here?
Well, you could use these average costs to estimate the needs of your individual employees based on whether they face below average or above average costs as determined by geographic location, territory size, and vehicle type. But you could also use tools that will give you more specific data.
mBurse can quickly provide the data and pinpoint an ideal car allowance amount or mileage rate for your drivers. Visit our Professional Services page for more information.