As you enter 2018 do you plan to run a motor vehicle record (MVR) check on all your mobile employees? If not, you should. You can reduce your company's risk profile and save a lot of money in the long run by adding annual or bi-annual MVR checks to your corporate vehicle policy.
If your organization has employees that need a car to do their job, it is essential to have a corporate vehicle policy no matter how large or small your organization is. The policy should outline and define what a safe driver is, assign appropriate consequences for moving violations, and designate the frequency of MVR checks.
Why MVR checks are important
The importance of running MVR checks should not be underestimated. Because driving records can change constantly, MVR checks are necessary to provide insight into employees' driving records and to deliver predictive driving data. This data can be used to assess a mobile employee's risk profile. Making sure your employees are safe, responsible drivers is your corporate responsibility.
Incorporating MVR checks into your policy could also save you from a worst-case scenario: a negligent entrustment lawsuit in which your organization is held liable for an accident caused by an employee. If an MVR check identifies an employee as a high-risk driver, you then have the ability to take proactive action by holding that employee accountable for improving his or her driving or by parting ways with that employee before something unfortunate happens.
How to interpret the MVR point system
The reports generated by MVR checks will reveal whether drivers have points on their driving records due to moving violations. Several factors are involved in generating the points system for moving violations such as terrain, traffic, and population density. Because the MVR point system is established by each state, comparing the records of two different employees from two different states can be a challenge.
For example, a 2-point violation in one state might equate to a 1-point violation in another. Some states display even greater disparities. In the chart below, you can see that driving without a license generates 10 points in Texas but only 2 points in California. Some states, such as Kansas, do not use a point system at all. Consequently, it's very important to create a policy that takes into account differences in each state's point system. In other words, you need to create a points equalization scale.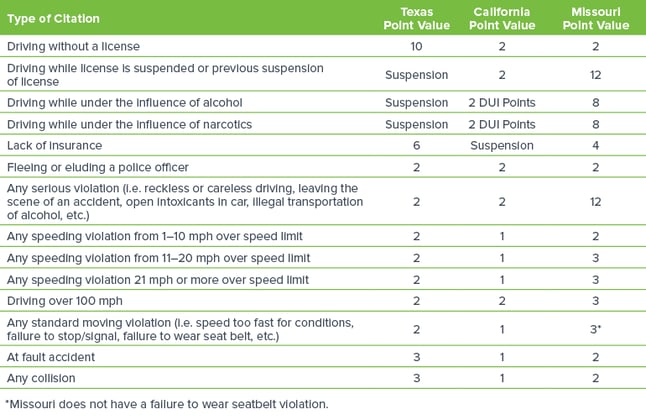 The importance of points equalization
If your organization has mobile employees all over the United States, you already know that one-size-fits-all policies create problems. For example, maintaining a one-size-fits-all car allowance to address costs that vary by location (gas, insurance, taxes, etc.) ends up treating mobile employees inequitably. In the same way, a one-size-fits-all points policy creates inequities. It will penalize some drivers unfairly and may let riskier drivers slide.
Implementing a points equalization system is vital to giving you an accurate picture of your company's risk level. While it's best to implement a points equalization system when designing your policy, you can also incorporate points equalization into your existing policy. First, create your own point system that is based on standardized criteria for determining high-risk drivers. Then create a scale that allows you to accurately and automatically translate each state's points system into your own.
The effect of MVR points on insurance
As you interpret each employee's MVR, it's important to remember that points for moving violations can increase insurance premiums. A person's driving history is one of the biggest factors in calculating what they pay for car insurance. Insurers also reward safe drivers with discounts. Mobile employees with moving violations may reduce their insurance coverage to offset their personal costs for insurance. In this case your organization's risk is compounded by at-risk drivers.
For this reason, it's imperative to verify that employees are maintaining sufficient insurance coverage, especially after an MVR check that reveals a high-risk driver. If an employee reduces coverage to insufficient levels, your organization could be held liable for an accident involving that employee. To prevent this, require a minimum level of insurance coverage that far exceeds state minimums, and verify coverage on a bi-annual basis, since most premiums renew every six months.
Check out our guide to mobile employee risk to learn how you can better mitigate your organization's risk factors through MVR checks, points equalization, and insurance verification.